Ahmet Hasim
Frankfurter Reisebericht
Literaturca Verlag, Frankfurt am Main 2008
ISBN-10 393553518X
ISBN-13 9783935535182
Gebunden, 106 Seiten, 16,50 EUR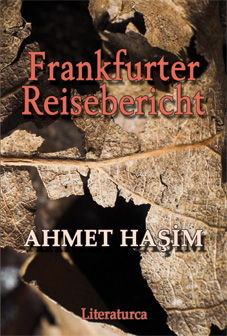 Ahmet Haşim, 1883 or 4-1933.
Frankfurt seyahatnamesi / Ahmet Haşim.
[İstanbul?] : Gazetcilik ve Matbaacılık T. A. S., 1933.
72 p. ; 18 cm.

"Aus dem Türkischen übersetzt und mit einem Nachwort versehen von Beatrix Caner." For me all these changes took on the shape of the miraculous by the time we reached Passau, on the border between Austria and Germany. Suddenly, the train seemed larger, and more spacious, and everything in it cleaner and more elegant....Outside I saw such magnificent architecture, wide boulevards, electric clocks with illuminated faces, road signs, posters advertising sport, the mountains, the sea, and boys and girls selling apples, pears, grapes, and other fruit from spotless plates, they themselves just as healthy and pink, all neatly and carefully dressed.