Ivan Martin Jirous
Magorovy dopisy
Nakladatel: Torst, Praha.
ISBN: 80-7215-265-3, EAN: 9788072152650
Formát: 528 stran, 20x11,5cm, česky, vázaná vazba, 550gr.
Rok vydání: 2006 (1. vydání)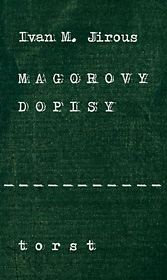 All the Jirous correspondence. most of it written from prison in the seventies and eighties to his spouses. Compared to Palivec and Havel prison letters.